insurance for climate adaptation: OPPORTUNITIES AND LIMITATIONS
This paper examines the role insurance can play as part of a wider strategy to help societies adapt to climate change and recover from disasters. It includes a series of recommendations to maximise the benefits of insurance for climate adaptation. It is part of a series of background papers commissioned by the Global Commission on Adaptation to inform its 2019 flagship report.
ANTICIPATORY CRISIS FINANCING AND ACTION
CONCEPTS, INITIATIVES, AND EVIDENCE
Innovative Financing for Responses to Refugee Crises
The growing scale, duration and impact of refugee crises requires innovative approaches to financing that are more efficient, more effective, more equitable, and more sustainable.
This report – produced after two Innovation Labs which convened experts spanning the finance, insurance, humanitarian, development and policy fields – lays out a vision for new systems of financing to ensure funds are available rapidly and reliably to respond to the changing nature of global refugee crises.
INNOVATIVE FINANCING FOR RESPONSES TO REFUGEE CRISES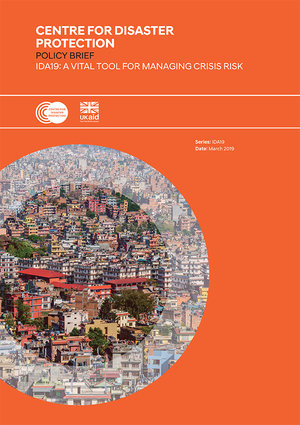 IDA19: a vital tool in managing crisis risk
POLICY BRIEF
This policy brief draws on the findings of five Discussion Papers in the Centre's IDA19 Series. Asking how IDA could be strengthened to deliver better results for those living in extreme poverty, it identifies a number of strategic and operational challenges that should be addressed if IDA is to fulfil its potential as a major financier of crisis risk.
Beyond Banking: Crisis Risk Finance and Development Insurance in IDA19
DISCUSSION PAPER
This paper charts the evolution of the World Bank's approach to crisis risk financing. It acknowledges significant progress in recent years, but identifies a number of actions that could be taken to accelerate the proposed 'pivot to prevention and preparedness'.
FINANCING EXPLICIT CONTINGENT LIABILITIES THROUGH IDA
DISCUSSION PAPER
This paper proposes an innovative approach to financing contingent liabilities using IDA to purchase a contingent loan with hard triggers, on concessionary IDA terms. The payout is used to buy down the cost of a commercial loan (such as IDA's Scale-Up Facility) to concessionary IDA terms.
ENSURING IMPACT: THE ROLE OF CSOs IN STRENTHENING WORLD BANK DISASTER RISK FINANCING
DISCUSSION PAPER
Drawing on examples from around the world, this paper argues that civil society organisations play a vital role in ensuring that crisis financing approaches are designed and delivered effectively. It concludes that in IDA19, CSOs should be more actively engaged in its crisis financing work.
IDA's Crisis Response Window (CRW): Learning lessons to drive change
POLICY BRIEF | DISCUSSION PAPER
$3 billion was allocated to the CRW in IDA18, equivalent to a third of IDA's total spending on crisis financing. This paper and accompanying policy brief detail how the CRW has been used to date, and identifies a number of concrete ways of improving its performance.
Managing the financial cost of disasters
DISCUSSION PAPER
Lessons for IDA from the UK Government's approach to explicit contingent liabilities. This paper draws on learning from the UK's Contingent Liability Approval Framework to consider how IDA could better support the systematic identification and management of contingent disaster liabilities for its client countries.